Under Contract in a strong seller's market
How do I get my offer accepted when there are multiple offers?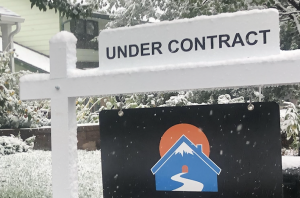 We all know by know that we are in an extreme seller's market. There is very limited inventory, and a good chance that the home that just came active today, will be under contract by the end of the weekend. So how does a buyer stand out against the completion of multiple offer scenarios well over asking price? I have outlined a few tips to get your foot in the door.
Build your A Team-  You are committed to working with a great agent and a local lender who are on top of it and your best interest in mind. Forming this team is crucial. Success does not happen by accident, and you trust that your team is thinking creatively, strategically, and with a winning mindset.
Step up to the plate and know that you are going to hit a home run- If you want to win, you have to have your head in the game, on the field and ready to play. Again, it's all about mindset. Defeat will happen, yet find ways to keep your spirits up and stay positive. The perfect home is coming to you.
 Pounce on opportunity- It is likely that you will find the one online before your agent does. That's ok, and you need to be looking diligently for the next home. If it checks the right boxes and fits your preferred location, let your agent know to schedule asap. With short showing windows and 150 showings in a weekend, there is no time to hesitate.
Communicate- Back to your A team, a good agent and lender will be in clear communication with the listing agent as soon as you have expressed interest in a home. Developing a strong relationship off the bat, gets your foot in the door, and starts to warm the agent and seller's heart to route for you.
They say jump, you say how high?- Its no secret that the best hand in poker takes the chips, a seller's market is no different. Get over it and stop complaining. Compile your resources, wether it be a family gift, down payment assistance program, or free rent bank. Be generous and willing to give the seller what they want, and with a grateful heart.
It all comes down to a positive mindset, attitude, and communication. The seller wants to be reassured that your offer is going to stand strong all the way to the closing table, and with no drama. If your agent can effectively communicate that to the other agent, you have a good chance of at least having your offer considered, if not accepted.
Ready to win? Start building your A team, and allow them to guide you home.