Singletrack Dreams Aboard a Drop Bar 'Quiver-Killing' Hardtail [Reader Bike Check]
As we saw in our bike check with Patrick Goral in 2019, square-pegging a bike into a round-holed category can be moot. The same goes for Troy Lyon's steel Proudfoot Resolve. Proudfoot, which is no longer making bikes, made the Resolve as a steel hardtail, capable enough for rough descents, and comfy enough for long days. Whether it's bikepacking, singletrack riding, or gravel biking, the Resolve still seems to do the trick for riders like Troy, though it won't be as easy to track one down anymore.
Troy's Resolve came into his hands through a friend. He had broken a crank arm on his full-suspension bike and his friend Scott graciously offered to lend him the Resolve. Both Troy and Scott previously rode for Proudfoot as ambassadors and were familiar with the steel frames, but Troy had yet to own one.
"I was reluctant at first to borrow his Proudfoot drop bar mountain bike, yet decided to take him up on his offer as a bike was better than no bike to ride." As he rode it more and more, he realized he was going to have a hard time giving it back. "After a few rides, I was hooked and Scott offered to sell it to me."
The frame had been in use for a few years already, but with steel's reputation for a very long fatigue life, the Resolve is likely just getting broken in. Troy bought the bike with a RockShox SID fork with a remote lockout, Mavic carbon wheels wrapped in 2.2-inch-wide Maxxis Ikon tires, and a PNW Cascade dropper post. He's added a frame bag from Evergreen Bike Threads and is planning to switch some of the levers around, so his dropper post will run from his left shifter, rather than the shifter controlling the fork lockout as it does now.
"Given that my preferable hand positions are on the hoods, this will provide better access to my dropper post and being able to adjust on the fly."
He says he's been able to get used to descending trail on drop bars without too much difficulty.
"I think this bike excels at being that one bike in your quiver that does it all. It's not going to be the best climber or descender, yet it tackles most surfaces with efficiency and
ease."
As he found the potential of the Resolve, Troy has been taking advantage of the bike's functionality.
"The first big adventure that this bike called to me, was to ride from Winter Park to Golden, Colorado, via Rollins Pass in one day." That ride, spanning over singletrack, gravel, and pavement, was over 70 miles with 6,500 feet of elevation gain, even though it drops in elevation.
"Placing several puzzle pieces together to complete the route was half the fun, including a mountain pass rich in history, sweet singletrack, and a few state and county open space parks."
Troy has his eyes set on a few more dream rides in the future, but as the snow settles in Colorado, they will likely have to wait at least until spring.
"For some time, I have had my heart set on a bikepacking route circumnavigating Mt. Hood in Oregon, while sleeping in a few fire lookouts or huts along the way. I summited
Mt. Hood as my first climbing expedition in 2005, and it would be neat to spend a few days with friends biking around its base while admiring its towering magnificence.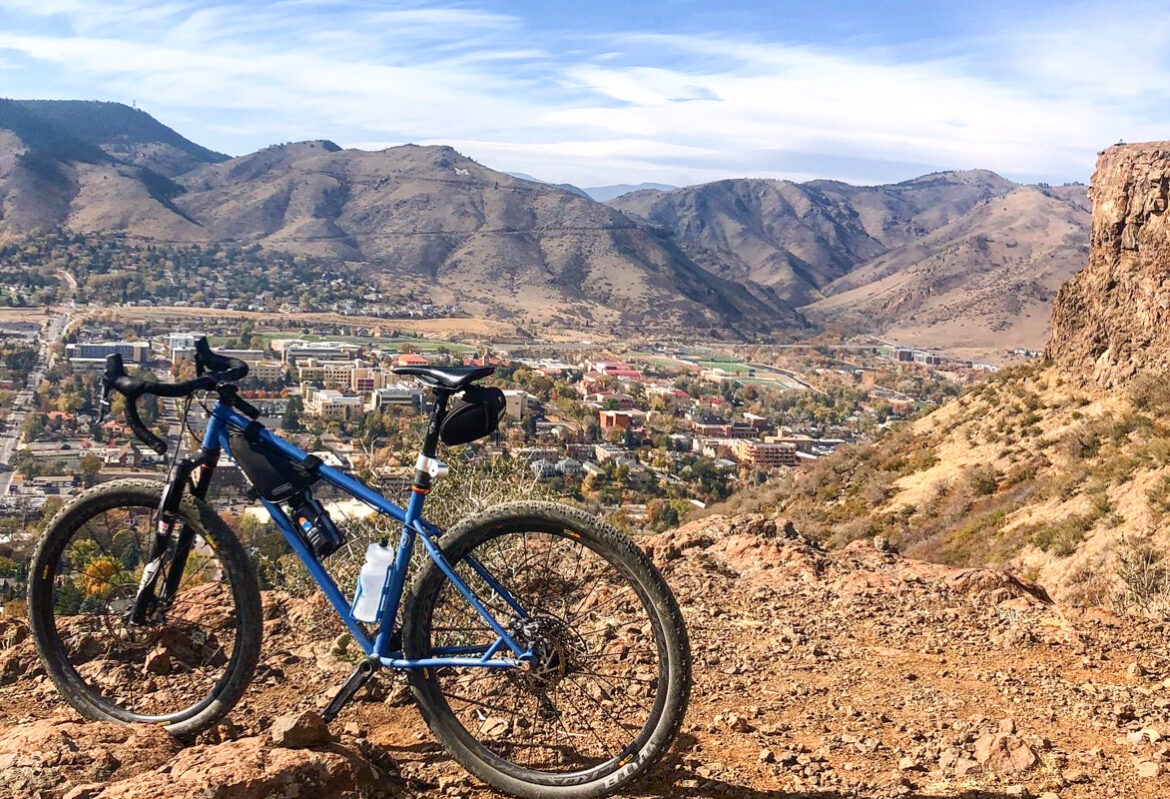 Living in Colorado, there are endless routes to plan and explore, including the Colorado Trail. It would be fun to ride from my home in Golden and ride the entire 560-mile route
to Durango, Colorado."